The International Museum of Radiant Peace
The Only Museum Dedicated to Radiant Peace
St. Petersburg, Florida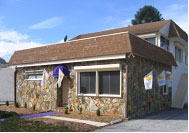 This first-ever and only museum in the world dedicated to Radiant Peace® is located in at 5601 Central Avenue in sunny St. Petersburg, Florida. The museum features educational and interactive displays about Radiant Peace along with award-winning writing, projects, and art by adults and children around the world.
See the Visitor's Guide to plan your first visit and then return for new exhibits!
---
April-June 2013
April
Saturday, April 6 (10-3)
Saturday, April 13 (10-3)
Saturday, April 20 (10-4) -- Radiant Peace Around the Earth Day

May
Saturday, May 11 (10-3)
Saturday, May 18 (10-3)
Saturday, May 25 (10-4) -- Winners Appreciation Day

June
Saturday, June 1 (10-3) -- Winners Appreciation Day
Saturday, June 8 (10-3) -- Winners Appreciation Day

Last entry is 45 minutes before closing. Tours can be scheduled on most weekdays -- call 727-343-8212 for availability.
Please call 727-343-8212 or email to schedule your weekday visit or birthday party tours!

---
Envisioning the Future
The Need for Expansion
The International Museum of Radiant Peace has outgrown its space! Teachers have asked to bring full classes on tours, groups have wanted to hold Radiant Peace activities at the Museum, and more people have arrived at one time than the space can comfortably accommodate. We would love to be able to have more than 15 or so people for tours, and to offer more Radiant Peace activities. In the present space, it is not possible. This is a great problem to have -- and we need your financial support to be able to expand into a larger building.
If this Museum inspires you, think how many more people it can touch with a larger facility! Please donate generously -- funds can be earmarked specifically for The International Museum of Radiant Peace and are tax-deductible.
We can also use help with fundraising. If you are a fundraising or grants expert, or know someone who is who wants to help, contact The Radiant Peace Foundation International today. Thank you!
---
Directions
Via Google Maps
Enter an address in the box below to generate directions using Google Maps. Type in as much of the address as you know. The map will open in a new window. Once the directions appear on your screen, you can switch between driving and walking directions.
---
---
Tours of The International Museum of Radiant Peace
Call 727-343-8212 to schedule tours for groups of up to 10 adults or 15 children with accompanying adults. Visits are available almost any day of the week and activities are tailored to the ages and interests of the visitors. Please call to arrange your tour!
---
Radiant Peace Around the World
Each placemark represents a place where there have been Radiant Peace activities of some kind. Use the navigation arrows to scroll around the map, and the + to zoom in to specific areas. If you click on the link below the map to look at a larger version, please use your Back button to return to this page.
---